Filling machines
Flexible and safe - patient specific medication with Smartfill Technology
Individual medical therapies and applications need reliable systems and technical solutions with highest precision.
It is essential, that those systems work smooth and safely with the ability act flexible.
The compact tabletop KMS fully meets these requirements.
Kiefel's filling machines are characterized by high ease of use, high filling precision and compact design.
Bag fill & seal - the KMS line
Kiefel's semi-automatic tabletop module allows you bag filling and sealing of high quality pharmaceutical liquids according to your needs.
The comfortable KMS module includes a high quality massflow meter. The module guarantees full fl exibility by simply adding further modules.
Options:
Mechanical: vacuum with drop control, Head Space, automatic port loading, port loading, port dispenser, table
Software: audit trail, process data acquisition, language
Additional: IQ/OQ documentation, spare and wear parts package, training
Smart Fill Technology
The unique Smart Fill Technology implies a thought out process. Kiefel sets new standards with unique filling precision: High quality mass flow meter and optimized flow path ensures precision. Filling speed in combination with a small footprint completes the smart solution.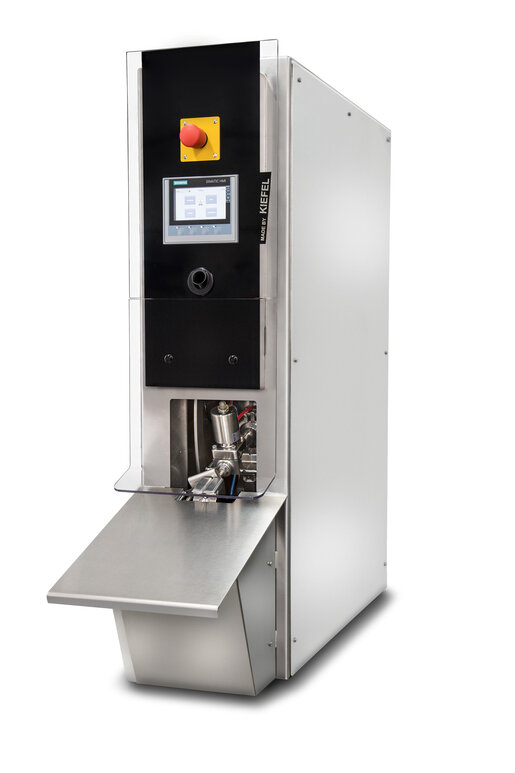 Your Kiefel Benefits in filling IV bags
High ease of use
Fully automatic CIP/SIP process
Top precision and full control of volume
Full flexibility
Due to small footprint and extendable modules
Monitoring systems
Headspace, drop control
Download
Table Top Filling Modul KMS mit Smart Fill-Technologie