Automation for thermoforming machines
Intelligent and innovative solutions
We have the right stacking and unloading systems as well as sophisticated solutions for downstream processes - individually tailored to the requirements of your product and your production.
Optimize your production with the automation solutions from KIEFEL Packaging.
Our stacking systems for the KMD Speedformer:
Up stacking
Down stacking
Tilt stacking
A/B stacking
Pick and Place Inline
Pick and Place to opposite operator side
The tilt stacking of your produced trays contributes enormously to high machine uptime and the quality of formed parts. Vertical stacking systems and stacking support increase your availability and reduce rejects.
With our tilt-stacking system for the KMD Speedformer series you can remove and process your products ergonomically and quickly.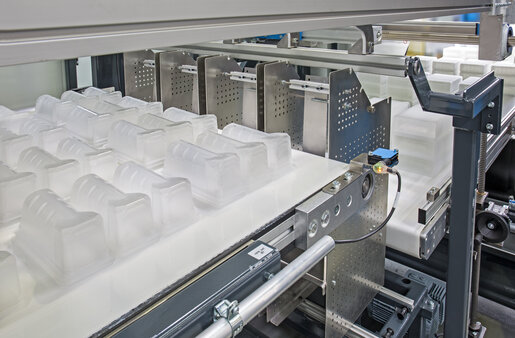 Pick & Place systems provide continuous output. A longer conveyor can serve as a buffer. The formed parts can be removed in an ergonomic position.
A/B stacking is an economical solution when processing thin films and utilizing a high level of automation during unloading and filling. The KMD systems are perfectly designed for this.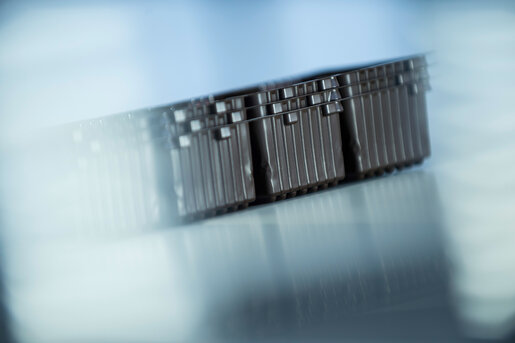 Intelligent automation for your KMD Speedformer system
Our solutions such as camera quality control systems and the SPEEDPACKER optimize the packaging and further processing of your products. Manual processes are replaced and staff costs are significantly reduced.
Automation solutions:
SPEEDPACKER
Counting and sleeving
Boxing and palletizing
Quality control
Great know-how in stacking systems
Minimization of working hours and costs
Better ergonomics for the machine operation
Improved workflows and higher output
More Kiefel Packaging services
Extensive know-how for high-performance products
Tech Team
The Tech Team pushes boundaries and explores new methods and solutions. Always searching for the optimal result at the lowest cost and always at the cutting edge of technology. This is precisely why KIEFEL Packaging invests substantial sums in research and development.
This includes support in product development, R & D, materials research, product analysis and simulation.