Sustainable Packaging Solutions
New material competence
We put your product first and rethink product design and functionality, material and composition towards a more sustainable product. Depending on that we adapt the manufacturing process and optimize machines and tools for your production. Your sustainable product can be recycled easier and together we are closing the loop.
You choose whether you want to use classic recyclable plastics like rPET, bio-based materials like PLA or natural fiber.
This choice is more important than ever, as consumers tend towards sustainable packaging. Today Kiefel already offers you the solutions of tomorrow - thermoforming of natural fiber called Kiefel Fiber Thermoforming.
Discover our Fiber Product Solutions
Waterproof, biodegradable or perfect product protection - Kiefel knows how!
Benefits of Fiberbased Packaging
Optimal product protection
Shock absorbing, resistant, volume reducing
Sustainable packaging solutions
Biodegradable, reuse of waste paper or use of renewable raw materials, low CO2 footprint
Refinement
Grease and water repellent products by coating or material composition, surface finishing with ink & printing.
Customized product design
Various options in product design as well as production of even complex geometries possible
From Waste Paper to New Fiber Formed Packaging
Kiefel technologies and solutions make it possible
Paper and cardboard – dissolved in a water bath – create the raw material, known as pulp. Through application of pressure most of the water is removed and the wet basic form is created.
In the next step, the remaining moisture is removed and the basic form is dried by applying high pressure and temperature. The combination of the applied heat and pressure results in a very robust material for high-quality and dimensional stable packaging.
Alternatively, virgin fibers (unprocessed cellulose) can be used to comply with the regulations in the food industry for packaging solutions made from paper.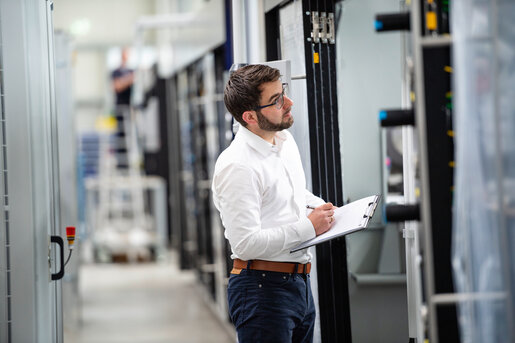 The Kiefel process - overview:
Raw Material: primary or secondary fibers
Fiber Preparation: refining with water to lower fiber concentration
Forming: the majority of the water is extracted from the fiber mixture through the forming tool via negative pressure
Pre-Pressing: continuous extraction of water, preformed product is pre-pressed and further drained with elastic tool
Hot-Pressing: reduction of residual moisture to a minimum through pressure and heat, refinement of contours/engravings, handover to lifting conveyors
Quality inspection e.g. camera inspection systems (add-on)
Automation solutions e.g. sleeving, boxing (add-on)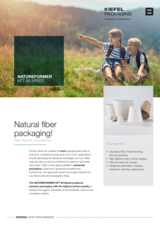 Natural fiber packaging!
Find out all about Fiber Thermoforming and the Kiefel solution NATUREFORMER KFT 90 SPEED.
Download
Fiber Team
Contact the Fiber team today!   We are happy to respond to any questions or requests and are open for any suggestions you might have. 
Sudetenstr. 3
83395 Freilassing
Deutschland
Contact the Fiber team today!
We are happy to respond to any questions or requests and are open for any suggestions you might have.
Email us fiber@kiefel.com, call us +49 8654 78 - 386 or
use the following contact form.