Materials Competence at Kiefel
In our Material Centers, we advance our research activities into more sustainable technologies, processes and materials.
Our customers benefit from advanced solutions that are optimally tailored to individual requirements, from material to machine.
Be one step ahead with your products
Lighter packaging? Increased stability? Or can material distribution be optimized so that the stack height can be reduced? These are all typical examples of development challenges that we deal with in research and development. We have the experience, the specialists and the opportunities to handle such projects ourselves.
Materials Center
Focus on processing materials: research & analysis
We put materials to the test, analyze, categorize and test them. This enables us to deliver optimal results to our customers and improve products and machines. In our Material R&D Center in Freilassing, Germany, we focus on research into the processing of natural fibers. At the Applied Polymer Research Center in Sprang-Capelle, the Netherlands, we drive innovations based on recycled and bio-based plastics.
Natural Fibers
Product development
Material recipes & additives
Proof of concept & process optimization
Barrier technology and coatings
Investigation of specific material parameters e.g. through electrical and chemical analysis
Various measurements such as residual moisture, material compositions, possible combinations
Basic research, e.g. use of agricultural waste, annual plants
Cooperation and research projects with universities, colleges, raw material suppliers, etc.
Polymers/bio-based plastics
Material development

Thermogravimetric analyses (TGA)
Differential scanning calorimeter (DSC)
Melt Flow Index (MFI/MFR) and intrinsic viscosity
Measurement of density, Determination of moisture/hardness

Product development

General microscopic examinations
Material recipes & additives
Product design and functionality

End product testing

Tensile strength, impact test
Oxygen permeability (OTR), layer thickness measurement
Product measurement incl. statistical analyses

Pre-series production
Which material is the right one?
High quality material processing
We see ourselves as a solution provider. Our customers can choose between polymerbased, biobased and natural fiberbased materials for production.
Kiefel offers the right system for the manufacture of your products for every application.
Not everything that is supposedly green is also environmentally friendly. It is important to keep a close eye on the available materials and and to consider which material is best suited for the respective application.
Therefore, our Rethinking Approach applies here: We rethink your product from the ground up. Give us your product - we will design it sustainably and consider new approaches in terms of functionality, product design, material composition, as well as material selection - recycled, bio-based, natural fibers.
Furthermore, we adapt and redesign our process, machine and tooling technology.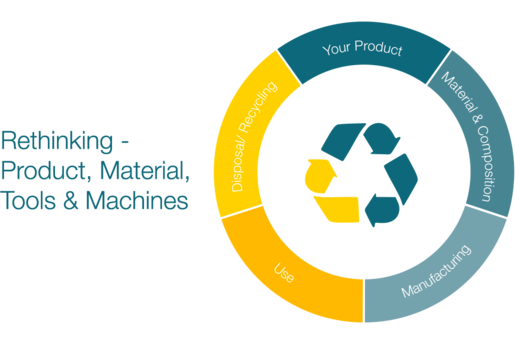 Polymerbased materials
Materials for processing e.g.:
(Recycled) PET, PP, PS, PLA, PE
Food articles:
Coffee, tea, beverages, baby food
Bakery products, chocolate, ready meals, margarine
Patisserie, delicatessen
Fruits & vegetables, salad, eggs
Meat, seafood, Pet food
Non-food articles:
Medicine & pharmaceuticals
Agriculture like flower pots
Engineering & electronics, transportation
Cosmetics
Biobased Materials
We have a wide range of materials in mind, such as biobased and biodegradable plastics as well as natural fibers, and test them for their applicability in our own laboratory. We are also very active in research.
We have already gained a lot of experience with PLA. Here, in cooperation with manufacturers of raw materials and additives, we have succeeded in increasing the temperature resistance so that biodegradable coffee cups can be produced from PLA on our machines.
Materials for processing e.g.:
Natural Fibers
Renewable raw material
Materials for processing e.g.:
CTMP (chemi-thermical mechanical pulp)
NBSK (northern bleached softwood kraft)
UKP (unbleached kraft pulp)
ONP (old news print oder old news paper)
OCC (old corrugated cardboard oder old corrugated containers)
Some grades from annual plants
Application of primary fibers:
The result is sophisticated and visually high-quality packaging with uniform color gradients that meet the hygiene standards of the food, pharmaceutical and cosmetics industries.
Food:

Coffee, tea, drinks, baby food
Cookies, ready meals
Confectionery, delicatessen
Salad

High quality packaging of technology goods:

Smartphones
Pharmaceuticals
Cosmetics industry
Application of secondary fibers:
Secondary fibers (packaging made from recovered paper) score in the field of protective packaging and agricultural products. Simple and functional packaging solutions are the result.
Plant containers such as flower pots, seed trays
Transport protection packaging for industrial goods