Analysis with CNC Measurement
Basic inspection
The tool remains in the same condition as received.
General inspection of mold condition
Check of cutting parts condition (measurement of usable height) and expected remaining service life in reference to used fi lm thickness
Dismantling of downholder / downholder insert
Dismantling of ejector rods (clear baseplate for accessibility)
CNC measurement of assembled tool (cutting plate, cutting bushes, main guides, planarity)
Leak test of cooling system
Measurement of water fl ow rate and evaluation of tool performance
Detailed report
Thermoforming tool registration at digital.kiefel.com with customer login
Customer consultation with Kiefel tool specialist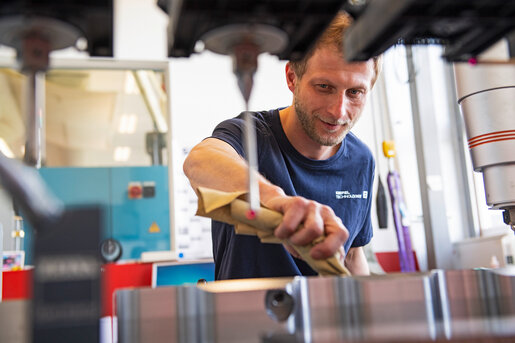 Analysis with Complete Tool Dismantling
Additional inspection
The tool is dismantled for analysis and then reassembled. Based on the analysis report the customer can decide if additional repairs should be done.
Full dismantling of all components
CNC measurement of individual components with reference to original design tolerances
Detailed report for customer
Reassembly of tool included in package price
Required spare parts for assembly are charged at cost (sealing, additional service work caused e.g. by corrosion)
Updated thermoforming tool data including assembly drawings, spare and wear parts list are uploaded to digital.kiefel.com