High-quality Fiber Preparation
NATUREPREP KFP - Kiefel Fiber Preparation
Discover our solutions for the preparation of natural fibers to produce high-quality packaging from natural fibers/pulp/cellulose.
Fiber molded parts from Kiefel machines can be found in the food sector, logistics, agriculture/nursery demands and the high-tech sector.
Get your ecological fiber packaging from one provider: Fiber Preparation & Fiber Thermoforming machine
Our Pulpers process common fibers as in the paper industry (primary or secundary fibers) , e.g. CTMP (chemi-thermical mechanical pulp), NBSK (northern bleached softwood kraft), UKP (unbleached kraft pulp), ONP (old news print oder old news paper), OCC (old corrugated cardboard or old corrugated containers).
You can get our KFP series in three different sizes: S, M and L.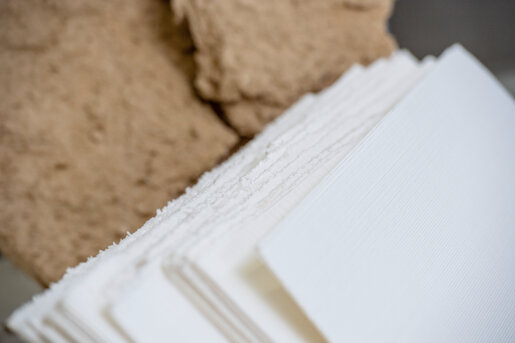 Why Fiber Preparation with Kiefel?
Benefits of the NATUREPREP KFP - Kiefel Fiber Preparation
Everything from one System Provider
Carefree packaging: Covering whole process incl. Fiber Preparation
Small Installation Surface
Compact system enables combination of all units &  more output on small surface
Modular Design
Configurable fiber prep for tailor-made solutions due to various sizes & modules e.g. refiner module, additive module and many more
Fast Production Start
No welding or grinding on-site; simple & fast assembly & production start at customer
Flexible Relocation
Relatively easy change of position due to smart design, therefore fast adjustment to market requirements & individual needs of growing companies
Sizes and Versions of the
KFP
Kiefel Fiber Preparation
The NATUREPREP KFP Fiber Preparation is available in the sizes S, M and L. Thanks to the KFT system you will get your Fiber Thermoforming system from only one provider.
Benefit from full flexibility, fast production start, easy relocation and a modular design.
You want more?
With smallest installation surface and highest mobility the KFP S is the perfect model for your entry in the fiber packaging business.
Whereas the KFP M and KFP L provide you non-stop output with up to 160 respectively 250 kg per hour.
| | KFP S | KFP M | KFP L |
| --- | --- | --- | --- |
| Output per hour | 30 kg | 160 kg | 250 kg |
| Output type | Batch-wise | non-stop production | non-stop production |
| Application | Small production | medium sized production volume | high production volume |
Various Modules & Options
NATUREPREP KFP - flexibly expandable
HD-Pulper
Deflaker
Refiner module
Pressure screen
Additive module
LD-Cleaner
Watertank integrated
more options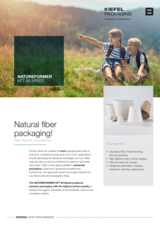 Natural fiber packaging!
Find out all about Fiber Thermoforming and the Kiefel solution NATUREFORMER KFT 90 SPEED.
Download
Fiber Team
Contact the Fiber team today!   We are happy to respond to any questions or requests and are open for any suggestions you might have. 
Sudetenstr. 3
83395 Freilassing
Deutschland
Contact the Fiber team today!
We are happy to respond to any questions or requests and are open for any suggestions you might have.
Email us fiber@kiefel.com, call us +49 8654 78 - 386 or
use the following contact form.