Know what to do when you leave school? An apprenticeship at Kiefel can open many doors for you. Because you learn not only about your desired profession; you can also apply your knowledge in different sectors. Above all, we attach great importance to you being able to put what you've learned into practice. This means that you also pitch in, taking responsibility for your tasks and contributing your ideas. Because we want you to be one of the best in your profession at the end of your apprenticeship!
The selection process for apprenticeships starting in September always begins in the spring of the year before (e.g. in spring 2019 for September 2020).
What you can
expect from us
We do all we can to offer you the best conditions for a successful apprenticeship.
This includes giving you real tasks and responsibility from the outset.
In every apprenticeship, you are provided with insights into the whole company.
Once you have completed your apprenticeship, we are happy to open up other opportunities (including financial support) for you, in order to develop your skills, e.g. further training to become a master craftsman, degree course, etc.
With the hybrid apprenticeship, you can follow two courses of training in parallel. See below for further information.
Maybe you combine theory and practice in the sandwich course – see below for further information again.
Our four divisions open up an array of possibilities for you – also beyond the apprenticeship.
It's a labour of love for us to nurture young talents like you!
Die neue
Kiefel Lehrlings Academy
Kiefel begleitet und unterstützt seine Mitarbeiter in ihrer fachlichen und persönlichen Weiterentwicklung – im besten Fall ein ganzes Arbeitsleben lang.
Unter dem Motto "Potenzial braucht Gelegenheit um wirksam zu werden", werden künftig die Auszubildenden bei Kiefel zusätzlich zur fachlichen Ausbildung in Sozial-, Selbst- und Methodenkompetenz geschult.
Am 06.04.2021 fand das 1. Modul der neuen Kiefel Lehrlings Academy statt. Die Themen des Moduls 1 "Den Übergang meistern" umfassen Teamarbeit und Kooperation sowie lösungsorientiertes und selbstverantwortliches Handeln. Darüber hinaus bietet es den Auszubildenden die Möglichkeit, tieferen Einblick in das Unternehmensgeschehen zu bekommen. Sie diskutierten mit den Bereichsleitern Helmut Strecha und Petra Spreitzhofer über Karrierewege und dafür notwendige Qualifikationen.
We offer apprenticeships in the following professions: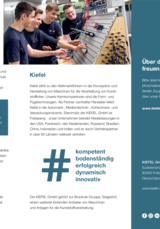 More information?
If you would like to know more, you can download our apprenticeship-folder here.
Download
Contact
Please feel free to contact us at any time if you have any questions:
Sudetenstraße 3
83395 Freilassing
Germany
Double the opportunity:
hybrid apprenticeship
We offer particularly high-performing apprentices a hybrid apprenticeship: With this you'll obtain two professional qualifications in parallel within five years. And it will make you one of our electromechanical specialists.
Two paths with one goal:
Sandwich course
If you strive for more, you can combine your university degree with an apprenticeship at Kiefel. The sandwich course is the ideal combination of theory and practice – from the outset. Not only are you financially on the safe side during your degree course with the assurance of a fluent passage from university into working life, you also smooth the way into a future with excellent career opportunities at Kiefel.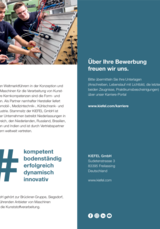 More information?
If you would like to know more, you can download our sandwich-course-folder here.
Download
Contact
Please feel free to contact us at any time if you have any questions:
Sudetenstraße 3
83395 Freilassing
Germany
In order for us to be well-matched, you need to meet these requirements:
Good school-leaving qualification – for industrial technicians and warehouse logisticians, this means a minimum of a qualifying secondary school certificate and, for industrial management assistants, technical product designers and electronic technicians for automation technology, a minimum of the "mittlere Reife" (= GCSE/high school diploma)
Sense of responsibility and willingness to learn
Ability to work independently
Good social and communication skills
We require the following documents for a successful application:
A compelling cover letter, detailing your motivation and your chosen apprenticeship trade
Your curriculum vitae
Your last two school reports
If available: Certifications for additional qualifications and internships